Static Noise by Brian Lopez — AVAILABLE NOW!!
Brian's sophomore album was released on September 23rd and has been #1 on KXCI and was just added to KCRW and other great radio stations!
KDHX says "A heavy, trippy blast of rock past, present and future, "Mercury in Retrograde" builds on the promise of Brian Lopez's budding career, surging through noisy aggression before dissolving into an elegaic, piano-based melody."
"Persephone is gentle and gorgeous, Lopez's acoustic guitar and vocals weaving together a timeless song about love, suffering and self-discovery. The pristine and spacious arrangement builds beauty into every corner of the song." – Eric Swedlund
Check out the video for Persephone – created and directed by Stephen Smith
Find Brian on the following sites:
BrianLopezMusic.com  |  Facebook  |  Twitter  |  Google +
---
 Rich Hopkins and the Luminarios – TOMBSTONE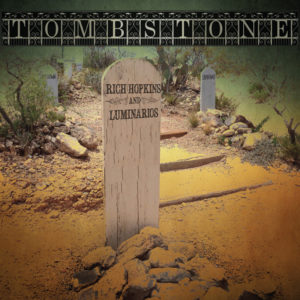 Rich Hopkins returns with an awesome new album with his signature desert rock sound. "Tombstone," which is in this collection of music they love, differs from Hopkins' previous works in its recording and production by Lars Goransson, a Swedish-born engineer from Austin's Sounds Outrageous. Prominently featuring Hopkins and Novak, the record further boasts the talents of Austin-based guitarist virtuoso/songwriter Jon Sanchez (Alejandro Escovedo, Bob Schneider), bassist George Reiff (Joe Walsh), and George Duron on drums.
Check out the video for the song "Tombstone"

Find Rich Hopkins on the following sites:
RichHopkinsMusic.com  |  Facebook  |  Twitter  |  Google +
---
Andy Palmer – New EP coming soon…
Storm's Not Coming will be released on Immersive Records on October 21st.  The EP will contain two brand new songs from Andy Palmer.
Colorado Music Buzz says "Storm" utilizes some harmonica on top of Palmer's thick, scratchy vocals, while "The Hill" lets his voice do all the talking. A quick listen to Palmer's back catalogue and it is apparent that his music is evolving along with his reputation. Both are enjoyable tunes that suck the listener in fill the mind with vivid imagery and abruptly obvious emotion, leaving us anxiously awaiting the next round with a wide open ear." – CLICK HERE
MarqueeMag.com gives it 4.5 out of 5 stars!!  –  CLICK HERE
Listen to Grrr (Live at the Boulder Theater)

Find Andy Palmer on the following sites:
AndyPalmerMusic.com  |  Facebook  |  Twitter  |  Google +
---
MOONDY – Puffers
Eclectic, improvisational, and experimental are all words to describe Moondy's artistry. "Incorrigible," "intense," and "slightly fruity" are all words to describe his personality. Encompassing each trait to its core, Moondy is known among Atlanta's music elite by his vivid moniker which stems from a deep appreciation of social rights activist, Desmond Tutu. Much like the wonder of his music, Moondy's tuneful messages deliver the warmth of his spirit and, as he expresses, joins him with the world. "Music is meant for people to enjoy in mind, spirit and body," stated Moondy. "I think any artist will tell you there is reciprocity within music, and our creations serve as connective tissue that helps people stay conjoined."
New Noise Magazine gives it 4 out of 5 stars – CLICK HERE
The official music video for the song BOO is currently in production at Provoke Films.  It will be released before Halloween, so stayed tuned!!
Listen to BOO

Find MOONDY at the following sites:
MOONDY.com  |  Facebook  |  Twitter  |  Google +
---
 Roger Street Friedman – The Waiting Sky
"I want to create music that matters and means something to me and to the people who hear it. Many of the songs on this record are meditations to myself on life and how to live it," says singer-songwriter Roger Street Friedman…After a zigzagging career in and out of the music business, Friedman is here to stay. His debut, The Waiting Sky, which was released this January, is boldly vulnerable and masterfully played roots rock.
"Roger Street Friedman's first album already has the persona, and he is accompanied by some well-known players in a band that is so in-tune to the richness and message of Roger's songs, it's as if they have played with him for years. Maybe they have." — John Apice – No Depression – May 2014 (CLICK HERE FOR FULL REVIEW)
Check out the video for The Waiting Sky

Find Roger on the following sites:
RogerStreetFriedman.com  |  Facebook  |  Twitter
---
 ShaManic
Born and raised in the heart of American musical culture, ShaManic's Nashville, Tennessee upbringing provided him with the diverse influences and inspiration that would eventually give birth to his rich, poetic alternative hip hop sound. "Growing up in Nashville, it's kind of impossible to not fall in love with music and to not want to be involved in it. It was sure true for me," ShaManic explains. "My music is more hip hop than anything else, but growing up I listened to everything: country, rock, R&B…you can definitely hear that influence in my songs, I'm always trying to incorporate something new. If you're not doing something new, what's the point?"
In THE ARTIST, ShaManic is determined to spread his message of hope, perseverance and creativity. He is relentlessly driven to explore new musical paths and to keep telling his story in the hopes that it will reach and affect others who find themselves struggling through dark times similar to the ones that have fueled his brightly burning artistic fire. 
Listen to Ba Da Da Da

Find ShaManic on the following sites:
Facebook  |  Twitter
---
Chicha Dust
Psychedelic – Rock n Roll – Cumbia
Featuring:
Brian Lopez – vocals/guitar
Gabriel Sullivan – guitar/vocals
Geoff Hidalgo – bass
Jason Urman – farfisa/accordion
Efren Cruz – timbales/percussion
Winston Watson – drums
Chicha Dust is now managed by Mike's Artist Management!
Check out their album "Live at the Dust Ballroom"

Next show date: 10/31 at Club Congress in Tucson
Check out the recent article on Chicha Dust in the AZ Daily Star — http://tucson.com/lifestyles/article_050030c1-0e63-5f1b-9a9e-825ec45ea305.html
Find Chicha Dust on Facebook and Twitter
---
**Sync note:  The song "Waiting for Lost Time" by LUCA was recently used in an episode of the Vampire Diaries on the CW.