BRIAN LOPEZ

Check out Brian's brand new video for the song "Static Noise"
*Friday, Jan. 30th 9pm @ Lestat's West Music Venue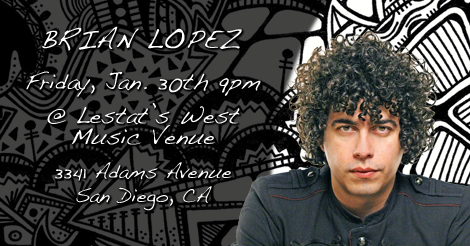 - 3341 Adams Avenue, San Diego, CA (next door to Lestat's Coffee House on Adams) – 619.818.8013
CLICK FOR INFO
*Saturday, Jan. 31st 8pm @ McCabe's Guitar Shop
– supporting Iain Matthews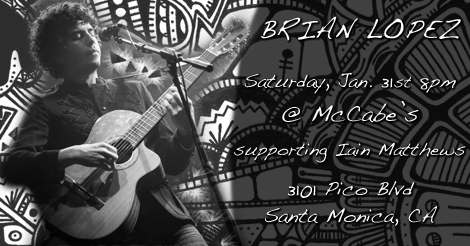 - 3101 Pico Blvd, Santa Monica, CA – 310.828.4497
CLICK FOR TICKETS

Listen to "Glass House" from the album Static Noise by Brian on Soundcloud

Listen to Brian's great cover of "Be My Baby"

CLICK HERE to download for FREE!!
---
CHICHA DUST
CLICK HERE to view the Facebook event
Have you seen the video for "Pressures of Mankind" by Chicha Dust?
---
ROGER STREET FRIEDMAN
Coming in early 2015, Roger Street Friedman will release a collection of songs on a new EP called Gone, Gone, Gone.
These songs, previously released on The Waiting Sky, have been revisited – Roger Street Friedman presents an unadulterated, reworked version of the originals.
"We started listening to the tracks without the drums and some of the other overdubs that were done on "The Waiting Sky" and really loved the stripped down nature of them.  So we decided to try a few alternate mixes. I wound up really digging the bare bones versions so we decided to release these as an EP." – Roger
In the meantime, check out the video for Gravity Always Wins
---
SHAMANIC
2015 is a big year for many artists, and ShaManic is no exception.
In preparation of his new album "The Artist" due out next year, he's released a flurry of lyric videos. Check them out on YouTube and his brand new website now.
Here's the ShaManic lyric video playlist.  Enjoy!
---
MOONDY
Moondy's "Boo" continues to gain views – if you haven't seen it yet, give it a watch!
The art direction, provided by Ciro Ayala of Provoke Films, is truly unique and is recommended for fans of Army of Darkness and other classic horror/action flicks.
---