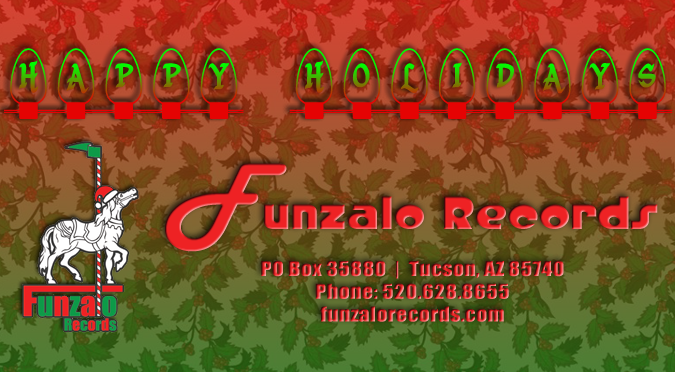 BRIAN LOPEZ
2015 is just around the corner and we've got nothing but good news for Brian Lopez for the coming new year.
Funzalo Records is proud to announce that Static Noise will be licensed to India Records (Michael Golla) and will be released in Europe and the U.K. in March 2015!
In Case You Missed It: Brian has a great cover of The Ronettes' "Be My Baby" and we're still offering a free download via Soundcloud… click the cart button on the player for a direct free download.
In other Brian Lopez 2015 news, we've got more music videos, US tour dates and radio adds on the way, so keep your eyes and ears peeled!
---
CHICHA DUST
Newly signed to Mike's Artist Management, Chicha Dust is headlining the New Years bash TROPIDELICA at The Rialto Theatre in Tucson, AZ.
We're talking glow-in-the-dark paint, Cumbia dance music, champagne and the most psychedelic New Years around.
Tickets are limited so check out the link on their Facebook event to purchase.
For those whose New Years plans are a little less colorful, we've announced some 2015 dates so you can be sure to experience their energy in person.
CHICHA DUST Tour Dates
Chicha Dust is also working on their first full length studio album, expect to see more news about this in the near future.

Watch the video for "Pressures of Mankind" by Chicha Dust
---
ROGER STREET FRIEDMAN
Coming in early 2015, Roger Street Friedman will release a collection of songs on a new EP called Gone, Gone, Gone.
These songs, previously released on The Waiting Sky, have been revisited – Roger Street Friedman presents an unadulterated, reworked version of the originals.
"We started listening to the tracks without the drums and some of the other overdubs that were done on "The Waiting Sky" and really loved the stripped down nature of them.  So we decided to try a few alternate mixes. I wound up really digging the bare bones versions so we decided to release these as an EP." – Roger 
In the meantime, check out the video for Gravity Always Wins
---
SHAMANIC
2015 is a big year for many artists, and ShaManic is no exception.
In preparation of his new album "The Artist" due out next year, he's released a flurry of lyric videos. Check them out on YouTube and his brand new website now.
Here's the ShaManic lyric video playlist.  Enjoy!
---
MOONDY
Moondy's "Boo" continues to gain views – if you haven't seen it yet, give it a watch!
The art direction, provided by Ciro Ayala of Provoke Films, is truly unique and is recommended for fans of Army of Darkness and other classic horror/action flicks.
---
RICH HOPKINS
Rich Hopkins and the Luminarios' new album Tombstone was recently reviewed in Blurt Magazine, and this is what they had to say about it: "True to form, Hopkins and company convey their heartland sensibilities with the same drive and determination that's been their stock and trade since the beginning, a sometimes sobering perspective that owes as much to Tom Petty as it does to Springsteen…"
Rich just released a new Christmas song!
You can also catch Rich on the road in 2015, here's a few dates for now:
January 2nd, 2015 – Fini's Landing – Tucson, AZ
January 21st, 2015 – Under the Volcano – Houston, TX
February 21st, 2015 – El Patio Bar – Las Cruces, NM
---
We have A LUMP OF COAL for you!
The holiday collection from Funzalo Records available digitally.

---
HAPPY HOLIDAYS FROM FUNZALO RECORDS!!
---